A Walk Down West Baltimore Street features historical research and fieldwork on the 1000 to the 1500 blocks of West Baltimore Street. The final products include a public history zine and video interviews which debuted at a public event on Saturday, May 18, 2019 at the Lion Brothers Building.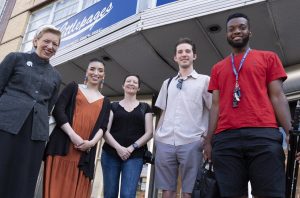 The project was a collaboration between two UMBC courses during spring 2019: American Studies 422 "Preserving Places, Making Spaces in Baltimore" and Media & Communication Studies 484 "Production Fellows." AMST 422 is an applied research course that addresses the importance of place to the diverse history and culture of Baltimore by developing innovative preservation and public humanities projects. MCS 484 students created short videos based on interviews conducted as part of the cultural documentation project.
Stories from West Baltimore Street
AMST 422: (Prof. Nicole King) DeAndre Bright, (teaching assistant) Dawn Baskins (SOWK), Olivia Grimes (INDS), Zack Herd (AMST), Shadia Musa (AMST)
MCS 484: (Prof. Bill Shewbridge) Tony Cano, Adam Czarnecki, Daniel Eiskant, Christian Howe, Kenneth M'Balé
Baltimore Traces Fellows (alumni): Adam Droneburg (AMST) + Markele Cullins (VARTS, graphic designer for the zine)
For the first assignment of the semester we all took a few pieces of the 1500 block of West Baltimore street to research… and find a place story. I had 1535-1538. The address that led to my place story was 1536 West Baltimore street where the Knoop brothers started their venture in the United States around 1870… the trail of this place story runs cold in the 1940s. The next step in my research will be to find ways to update this narrative and connect it more to the Baltimore we know today.
From the 2019 zine…
Prof. King's
PLACE STORY: 1536 West Baltimore street (draft 1)
The Knoop brothers were three melancholy Germans who kept a grocery-store at the northeast corner of Baltimore and Gilmor streets, opposite Thiernau's. It was a dirty place, and we never patronized it, but my brother Charlie and I often lifted apples, sweet potatoes, turnips, etc., from the baskets which stood outside. The Knoops made money, invested it in the coal business, and died rich. In my boyhood only one of them was married. When he died his widow married one of his brothers. –H.L. Menken, Happy Days, 1880-1892
In the 1880s one-quarter of the residents of Baltimore city had "recent German roots." So it was unremarkable that the Knoop brothers arrive in the 1860s as part of the German migration to the city. The Knoop brothers first owned a farm where cows often strayed and the eldest brother Johann Henry (John H.) Knoop would put advertisements for a reward for their return. By the 1880s brothers John and Frederick, the one Knoop brother who eventually returned to live in German, had built a "handsome store and dwelling" three stories and made of pressed brick at the northeast corner of Gilmor and Baltimore Streets. The Baltimore Sun reported in 1881 that these two stores were among six along West Baltimore that left the area "considerably improved."
The oldest brother John was an important businessman in West Baltimore as shown by his public protest with other local businessmen in 1889 "against the proposed abandonment of the Mt. Clare Shops for the construction of Engines and Cars" and later in 1901 in testifying along with many local women against saloon opening on the 800 block of West Baltimore street. The most important role John Knoop played in the local business community of West Baltimore street was his role in founding and serving at the president of the The Merchants and Mechanics' Perpetual Building Association of West Baltimore in 1893.
When John H. Knoop died in 1902 he left most of his estate and West Baltimore businesses to his younger brother George C (Gevert Claus) Knoop. These included the Firm of Knoop Bros., the coal and wood business conducted under the name of John H. Knoop & Co. at 6 North Gilmor street, the interests in the business of Knoop Hardware Company, 1536 West Baltimore street, shares in the Mechanic's Permanent Building Association, interests in properties 1512, 1514, 1536 and 1538 West Baltimore street and 1517 and 1506 to 1538 Montrose street, interest in the farm known as Dorsey Hill, on Edmondson avenue, a tract of land of 19 acres near Franklin road, and finally interest in real estate in Germany inherited by him from his parents. John Knoop was never married, however, he left $4,000 (a sizable sum in 1902) and numerous ground rents to Miss Anna Augusta Kontner, a German American woman who lived nearby. Allmer Knoop was born in 1846, just two years after his older brother John.
Allmer Knoop was a grocer who ran the brothers' storefront where a young H.L. Menken "lifted apples, sweet potatoes, turnips" from the binds outside. Allmer died a year after his slightly older brother John in 1903 and was listed as a "well known grocer" in West Baltimore and "beloved husband" of Freda (spelled Freda, Frieda, and Frida in the Sun) Knoop. In his will he left his estate to his wife and some money to nieces and nephews in German, and "made no provision for his brother, Gevert Laus [George] Knoop, of Baltimore, as the latter has been sufficiently provided for by succeeding the testator in business in 1879 and by the will of the testator's deceased brother Johann Henry Knoop." Less than eighteen months later in 1904, Allmer's younger brother (by seven years) George married his widow Frieda.
George Knoop focused on running the family businesses, especially the Knoop coal company. Racial segregation became a hotly contested topic for white neighborhoods in Baltimore in the early twentieth century, leading to the nation's first racially restrictive zoning ordinance being passed in 1911. George and Frieda Knoop moved, along with many other German American in West Baltimore to the county. The Knoops moved to a cottages on a couple of acres off of Beechwood avenue north of Edmondson avenue in Catonsville. It was in this county cottage that George C. Knoop died suddenly in 1914 after returning from a day of meetings in the city where he seemed in good health. According to the Baltimore Sun, "When about to leave for home he became ill and his condition grew so much worse that on arriving at his home he had to be carried from the car." The coroner listed heart disease as the cause of death. George Knoop was 61 years old at his death and he was survived only by Frederick Knoop of German, the last Knoop brother who had much earlier returned to his country of birth.
In 1940, Charles R. Knoop sold the three story store-front building at 1536 W Baltimore street and the adjacent building at the corner of Gilmor St. to an investor represented by the broker Parker W. Frames, thereby ending the story of the "three melancholy Germans" who helped to build up the bustling businesses along West Baltimore street in the late-nineteenth and early twentieth century.