In spring 2021 A Place Called Poppleton debuted to document the history and culture of the Poppleton neighborhood of Southwest Baltimore. UMBC students produced a StoryMap digital walking tour of the neighborhood with a focus on the area's Black history and places lost or endangered due to redevelopment. We worked to document and share engaging stories of the past and present through archival research and listening to those who live, work, and are connected to Poppleton.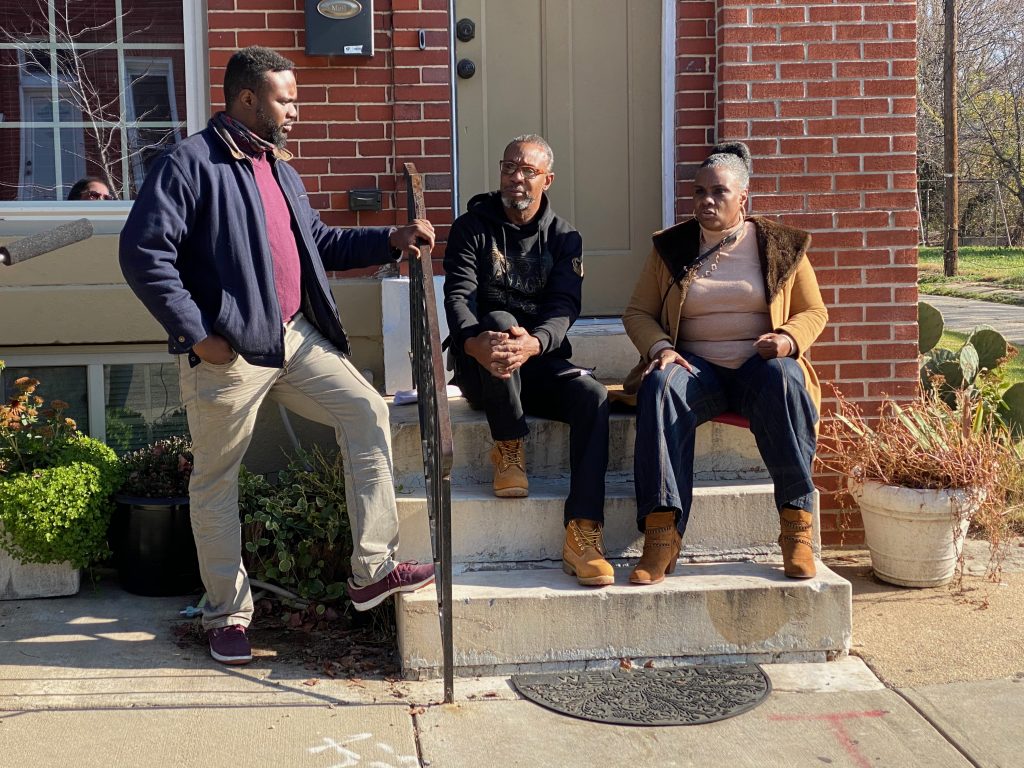 The project was a collaboration between Nicole King's Preserving Places, Making Spaces in Baltimore course and Bill Shewbridge's MCS Media Production fellows. King's American Studies students researched the history of Poppleton and Shewbridge's students produced short films from interviews in the field on the history of Poppleton and how local stakeholders feel about the neighborhood's changes related to redevelopment.
Check out the Poppleton Digital Tour and visit the website for all the videos and content: https://baltimoretraces.umbc.edu/poppleton/
Over the summer, Professor Nicole King worked with a collective of local residents and supporter on a Save Our Block campaign. For more on that, you can read:
Mark Reutter, Ground down and depopulated, Poppleton makes a last stand Baltimore Brew (July 10, 2021)
Fern Shen, A rally to save Poppleton draws supporters, but nobody from City Hall Baltimore Brew (July 11, 2021)
Fern Shen, City razes historic house in Poppleton two days after Save Our Block rally Baltimore Brew (July 13, 2021)
Hallie Miller, As Baltimore's Poppleton neighborhood braces for change, residents liken it to a 'family' being broken apart, Baltimore Sun (July 23,2021)
That work led to research and organizing around a CHAP local history district on the important Black history of the block. This early research and idea was presented to the community at a small event (due to rain) on August 11, 2021. The CHAP local history district was presented at the August 19, 2021 to the newly elected executive committee and board of directors for Poppleton Now neighborhood association. On Thursday, August 26 the initial research on the CHAP local history district was presented at a public meeting held in the Sarah Ann Street park where around 40 community members attended. We handed out the student-produced zines, which were designed by UMBC graduate and artist Markele Cullins.
Prof. Nicole King and Curtis Eaddy II discussed the history. Eric Holcomb from CHAP answered any questions about what a local history district does and does not do. Sonia Eaddy presented on the Poppleton Plan, a community-driven plan designed with a city planner. Many members of Poppleton Now and the Southwest Partnership board attended. Councilman Dr. John Bullock, who represents Poppleton and is a member of the CHAP board, pledged his public support of the local history district.
For the fall 2021 semester, AMST Community in America seminar students will work collaboratively with local residents in further documenting the history of Poppleton and researching the history of the houses along the block. We also want to document the recent past and complete further oral history interviews with residents who have been displaced from this block due to the long-stalled redevelopment project dating to 2004.
If you have thoughts, feedback, or want to get more involved, please contact Prof. Nicole King nking@umbc.edu.